Crew Resource Management
Crew Resource Management Training for Canada's air operators. Your flight crew and AME's and operational staff will be equipped with the knowledge and expertise needed to make your company safer with reduced risk.  Think about how Threat and Error Management along with Decision Making and Communication could improve every part of your operations. These are only a few of the key topics that make up today's Crew Resource Management.
WHY CHOOSE EMPRESS AERO?
When you work with Empress Aero for Crew Resource Management training, you are drawing on the collective knowledge and experience of professional Canadian Airline Transport pilots as well as the most up to date research in human performance for AME's, and flight crew. You can trust that you are getting very best in the industry training available. Every aspect of our resources and teaching materials were developed and adapted by professionals. We know what it takes to operate as a crew in all of Canada's geography and demographics.
Our Crew Resource Management course is engaging and interactive, so it makes the learning process a breeze. We're well equipped help you meet Transport Canada's requirements so you have complete peace of mind. If you don't have the time to develop and implement a training program, or you are simply looking for a one stop solution for your Crew Management Resource training, Empress Aero is here to help. Take the next step, please contact us to schedule your Crew Management Resource training course today.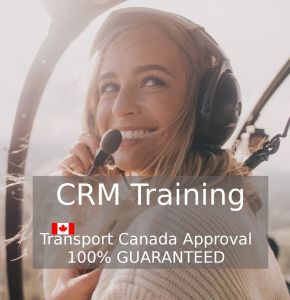 Limited Availability!
Contact us now to reserve your training dates.
AUTHORITATIVE
Our commitment to you is to deliver excellence in e-Learning, in-person presentations and case study review webinars. As our client, the training you receive will provide you even greater confidence in your staff and their ability to make safe decisions. By adopting our unique approach to threat and error management your team will have the fundamental basis for Crew Resource Management in all facets of aviation. Its our task and passion to foster development of professional attitudes and behaviors so that safe operations is the everyday norm and culture in your company.
Ensuring compliance with the Transport Canada Advisory Circular 700-042 requiring Crew Resource Management training for all Canadian Air Operators is your goal. Empress Aero ensures all aspects of the circular are complied with so you don't have to worry about an audit going wrong. Crew Resource Management training compliance can be met through e-Learning, in person facilitated training, webinars or through the convenience of video conferencing.
Solid Foundation – Crew Resource Management courses developed by our team have been approved and endorsed by Transport Canada since 2013. You can trust our research, material and delivery.

Diverse Operators – Operators from aerial work, air taxi, commuter and airline operations ask us about Crew Resource Management.  Our team has the  experience in facilitate CRM training for fixed wing and rotary wing operators. We have helped pilot owner/operators size companies to organizations with corporate fleets and international air carriers meet Transport Canada compliance.
e-Learning
If you prefer to have your staff study on their own time and at their own speed then our CRM e-learning package may be a good fit. Because the scope of your operations differs from others in the industry we make sure you receive the most suitable CRM syllabus.  Some of the following modules may be suitable for e-learning provided by Empress Aero.
Threat & Error Management
Automation & Technology Management
Discover how you can benefit from our experience in building and delivering your Crew Resource Management training.